The year 2009 is approaching the end. The world will remember this year as the year of economic crisis. It is clear that this topic was dominant and overwhelmingly dominant in the mass-media. Crisis isn't good thing but here I have own opinion: I believe that in principle this year was healthier for the economy than the last year. Probably from the year 2005 there were seen signs that many bubbles are clearly forming and causing many disbalances in the economy.
But not all countries and not all sectors of the economy feeling this crisis equally. This photo I made 5 minutes away from my home in Kaunas today and it shows one of the trends of the 2009 in Lithuania: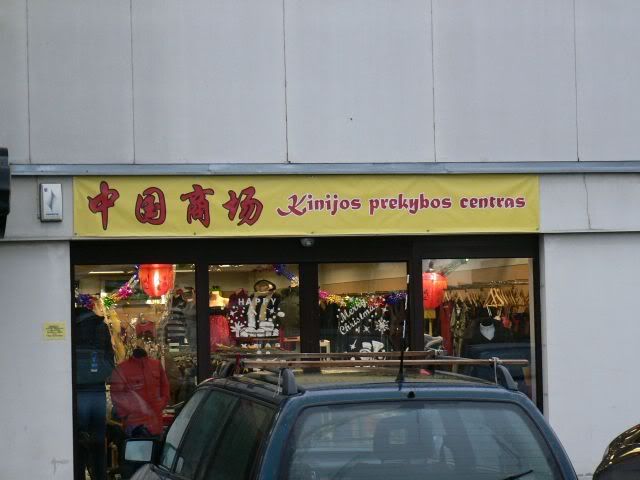 Chinese shopping center ... Center selling Chinese made goods and run by Chinese businessmen. This year there were opened 29 (sic!) Chinese shopping centers in Lithuania and 30th center is on the way. They are now opened not only in the bigger towns but in the some of the district centers also. Between the reasons of such success of Chinese businessmen are subsidies from Chinese government. But the main reason is the ability of Chinese to find already cheap Chinese made goods even cheaper than Europeans are able to do. In some of those centers even sellers are Chinese men and women ... I was shocked to know several weeks ago that on September regular air connection Kaunas - Hong Kong was opened. The line is served by Chinese air companies and is available for Chinese exclusively .
Anyway the world is changing at the very fast speed. Or may be the world is simply returning back to the "normal state" since for the last 2000 years China was the largest and the strongest economy in the world. Only the last 200-300 years was the period of the domination of the Western world. And this domination is going to the end - to the normal state of Chinese domination. Only with one exception - previous domination of China was in the world were such phenomena as globalization was unknown ...