Today we have a free day: every year on February 16th this country marks independence day (official name The Day of Restoration of Lithuanian State). Usually this day celebrations aren't very widely seen in recent years. But some trend of the past few years is that this day is also an occassion to show themselves for various not-popular (largely marginal) organizations. The characteristic property of the year 2015 is the wide participation of foreigners in this event and even commemoration of this day abroad. So this report will be largely about foreigners in February 16th events in Lithuania. And even few photos of February 16th abroad.

E.g. this photo has been made not in Lithuania. This is Kyev on February 15th, 2015 (photo from Kyivpost):




Yesterday Ukrainians decided to send us such congratulation :) Kiev, Kreschatik - 250 meters length national flag of Lithuania: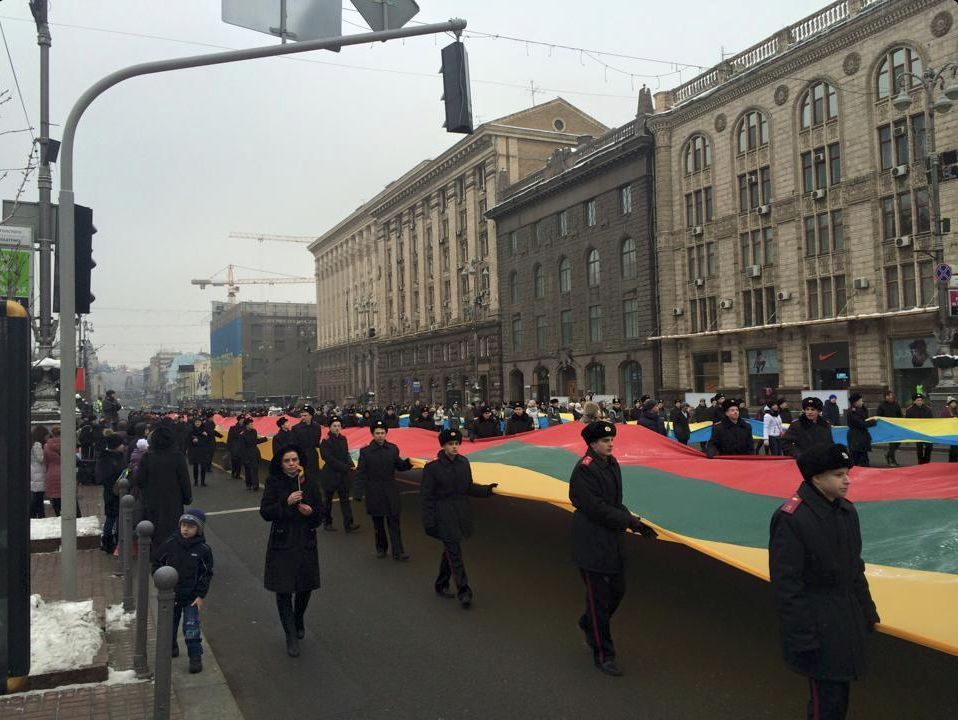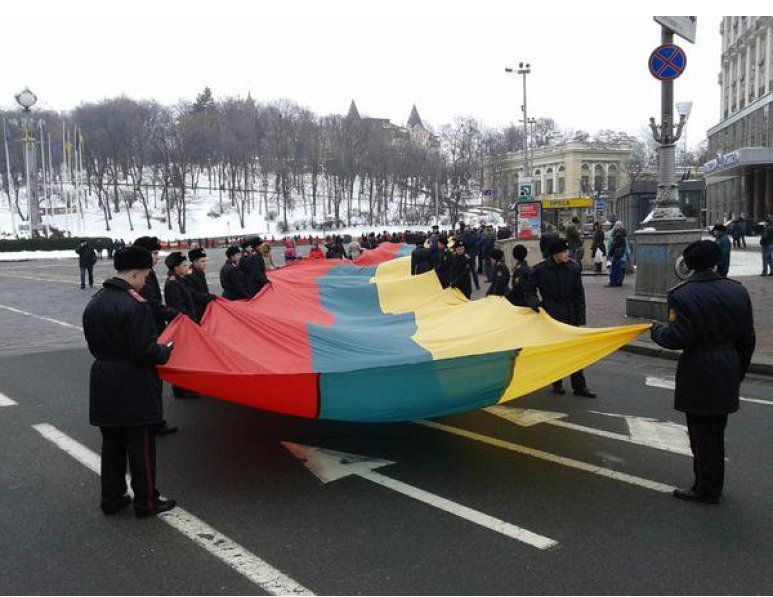 Here was also several exotic events. E.g. yesterday in Kaunas one meeting has been organized by largely unknown organization - National democratic front. The official slogans of the meeting was "Out with the dictatorship of capital", "Down with the NATO and EU", etc. Organizers said that they plan that the meeting will be attended by at least 1000 participants and they planned to march through the center of the city. Strange expectations since anti-NATO and anti-EU slogans are very unpopular here now ... In fact this meeting attracted very "huge crowd" - .... 13 participants ! And these 13 participants were immediately surrounded by not very numerous but in any case significantly bigger pro-NATO crowd.

One of the participants (photos from delfi.lt):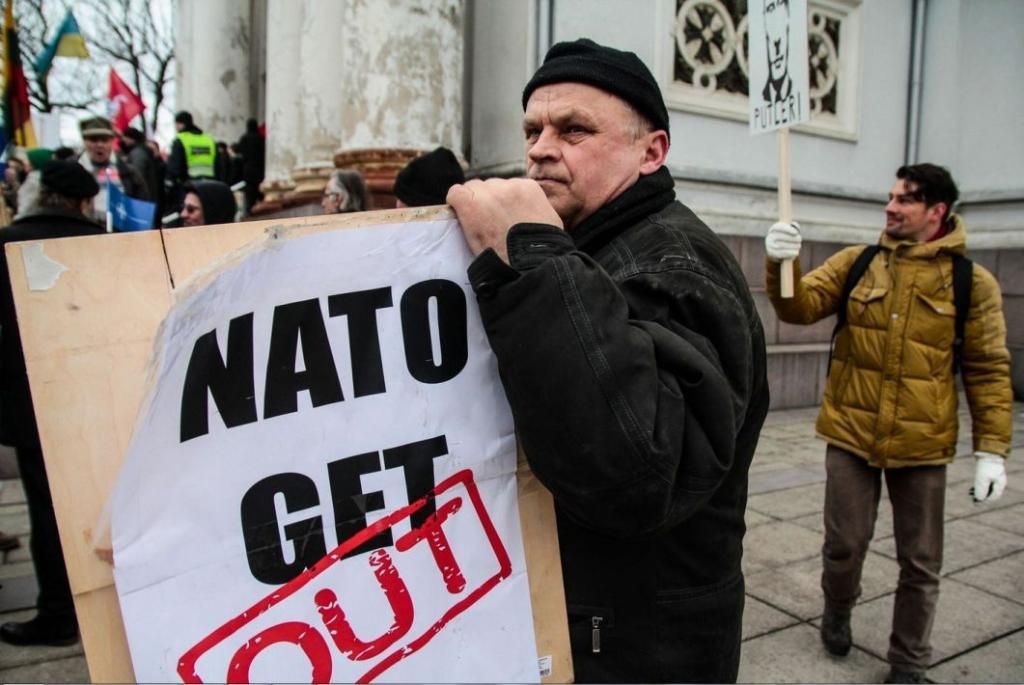 Another participant with slogan "EU and NATO - the destroyers of nations". He was immediately surrounded by counter-participants with slogans "Stop Russian propaganda" and "Stop Putler":




One more participant: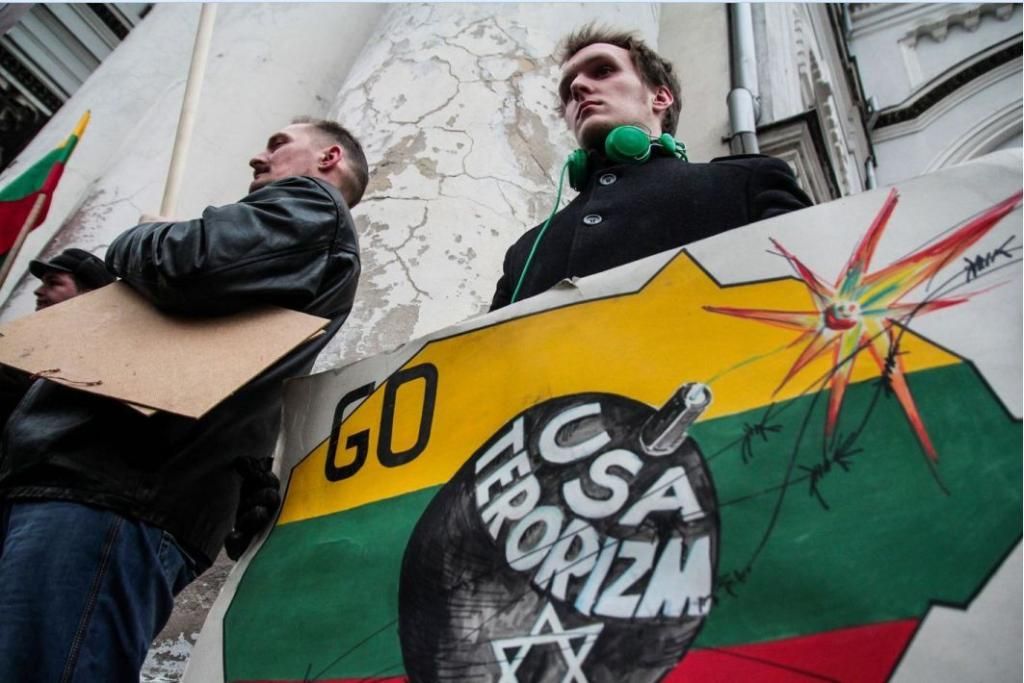 Counter participants: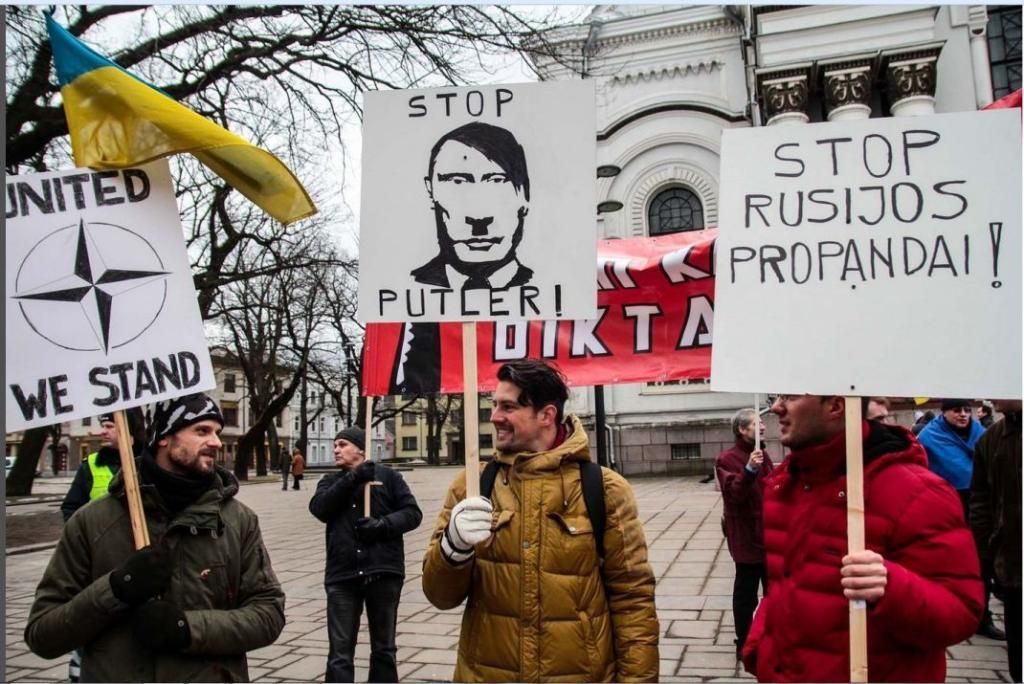 Now they are ready for the march (photos from Ausrys Kriksciunas facebook):




The all members of meeting:




Guarded by police they tried to march but were simply booed by the counter-protesters and other walkers. It could be seen that there were much more counter-protesters which surrounded them: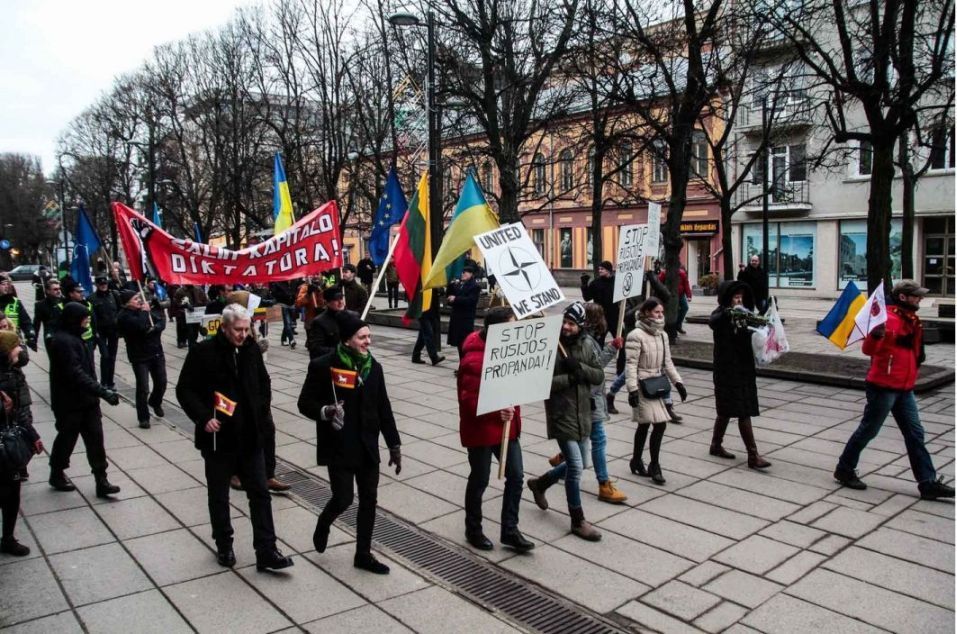 The Russian footprints in this meeting isn't empty words: the modern technologies - everywhere available cameras - enabled the people to make the photo of the car which brought those anti-NATO and anti-EU slogans for those quasi-protesters. Here is this car with license plates of one foreign country ...





Today one more meeting was held here. It is the march organized in last 7-8 years and called March of National Youth. This march was significantly more crowded (photos from lrytas.lt):




Organized under national solidarity slogans the organizers every year put anti-EU feeling in their marches (but not anti-NATO).




"EU is temporary, the national idea - forever":




The participant and supporter of Lithuanian national idea :)))))))))))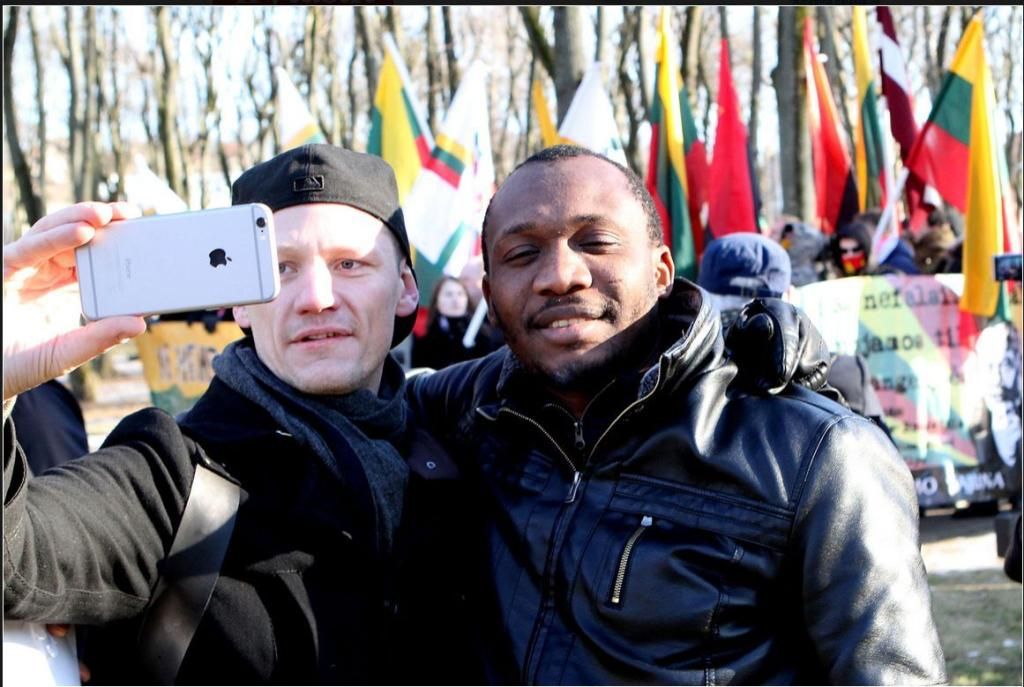 But most famous foreigners in those marches were representatives of Simon Wiesenthal center - Efraim Zuroff and David Katz. Each year they arriving to those marches to look for the Nazis ...




Foreign accents duirng the official ceremony in Vilnius:




The foreign presence was seen this year also in the commemorations at one more place where another February 16th declaration has been signed: in Minaičiai village, in modern Radviliškis district the commanders of all undeground military units signed a declaration "Lithuanian Freedom Movement Declaration" on February 16th, 1949:

The Council of the Movement of the Struggle for Freedom of Lithuania,representing all military public groups headed by united leadership within the territory of Lithuania, namely:
Lithuania's Southern Region including Dainavos and Tauro Districts,Lithuania's Eastern Region including Algimanto, Didžiosios Kovos, Vyčio and Vytauto Districts, Lithuania's VVestern Region including Kęstučio, Prisikėlimo and Žemaičių Districts
that is to say, in expressing the will of the Lithuanian Nation, reiterating the fundamental principles of the June 10, 1946 Declaration of the Supreme Committee for the Restoration of Lithuania, May 28, 1947 UDRM [United Democratic Resistance Movement] decisions and UDRM Declaration No. 2, and amending these by decisions, adopted on February 10, 1949, at a joint meeting of the UDRM Presidium and at the UDRM Military Council, declares:
The Council of the MSFL shall be the supreme political body of the nation during the occupation period, in charge of the political and military struggle for the liberation of the nation.
The headquarters of the MSFL Council and its Presidium shall be located in Lithuania.
The State system of restored Lithuania shall be that of a democratic republic.
The sovereign authority of Lithuania shall belong to the nation.
The governing of Lithuania shall be exercised by the Seimas elected through free, emocratic, general, equal elections by secret ballot and an appointed Government.
The Provisional National Council shall have legislative power from the end of the occupation to the assembly of a democratic Seimas of Lithuania.
The Provisional National Council shall include the representatives of all the regions, districts, teams, universities, cultural and religious organisations and movements and political parties having national support, under a united leadership, struggling in Lithuania and abroad and in line within the principle of proportional representation.
....
Prior to the adoption and promulgation by the Seimas of the Constitution of the State in line with the aspirations to human rights and democracy, the restoration of the State of Lithuania shall be implemented pursuant to the provisions of this Declaration and in the spirit of the 1922 Constitution of Lithuania.
The restored State of Lithuania shall guarantee equal rights for all Lithuania's citizens who have not committed any crimes against Lithuanian national interests.
The Communist party, as dictatorial in essence and in essence contradictory to the princuipal aspiration of Lithuanian natįion andthe cornerstone principle of the Constitution, which is independent Lithuanian state, will be prohibited and refused the right to exist.
The persons who have betrayed their Homeland during the Bolshevik or German occupation by collaborating with the enemy, having by their actions or influence contributed to harm against the struggle for national liberation and have been stained by treason or blood, will stand before the Court of Lithuania.
The positive influence of religion in developing national morality and sustaining its strength during the most difficult period in the struggles for freedom, shail be asserted.
Social care does not fall vvithin the realm of individual citizens or organisationsalone, but shall constitute one of the priority tasks of the State. Particular care shall be provided by the state to the victims of struggles and their families.
A rational solution to social problems and reconstruction of the state economy is linked to reform of agriculture, cities and industry, which shall be implementedat the very outset of independent existence.
The MSFL Council, joining in the efforts of other countries to create universally constant peace based upon justice and freedom, drawing supportfrom full implementation of the true principles of democracy stemming from the understanding of Christian morality and declared in the Atlantic Charter, Four Freedoms, President Truman's 12 Points, the Declaration of Human Rights andother declarations of justice and freedom, appeal to all of the democratic world for assistance in implementing its goals.
Occupied Lithuania February 16, 1949

Minaičiai yesterday:
Here too was seen presence of foreigners - in this case foreign servicemen - Americans, Poles, Italians: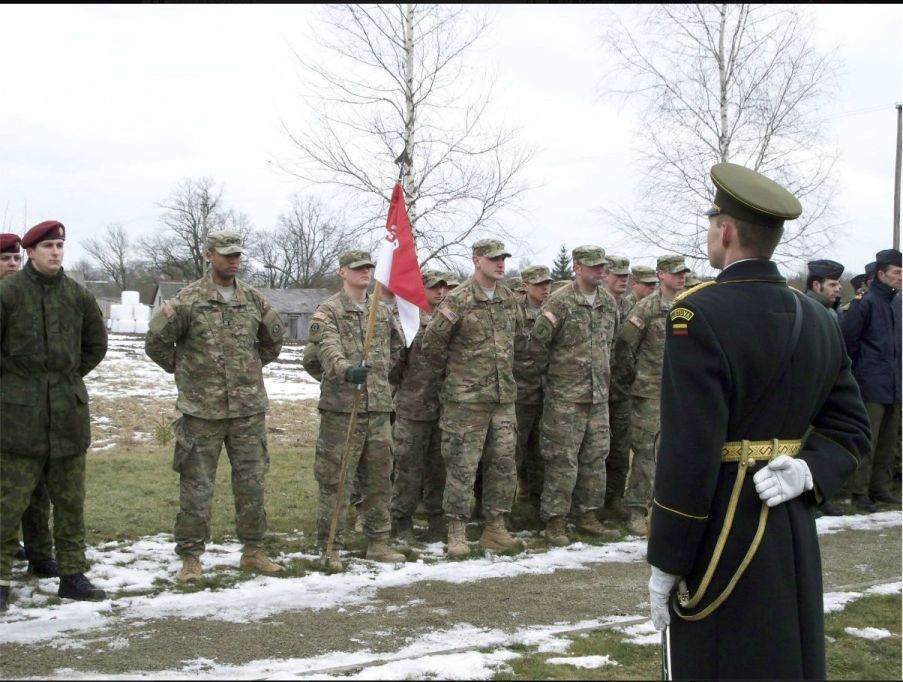 Restored bunker where the declaration was signed out:
Those very few alive participants: