Some say that Lithuanian architecture produced two important (may be even European level) phenomena - Vilnius baroque school of XVIIIth century and Kaunas modernism of the first part of XXth century. If Vilnius baroque school is well-known and recognized then Kaunas modernism began to get attention only in recent decades. And here is my first report about people who participated in the latter phenomena. I will start it may be not from the brightest star but from the man of an unique biography - Klaudij Dusheuskij - author of the Belarusian national flag.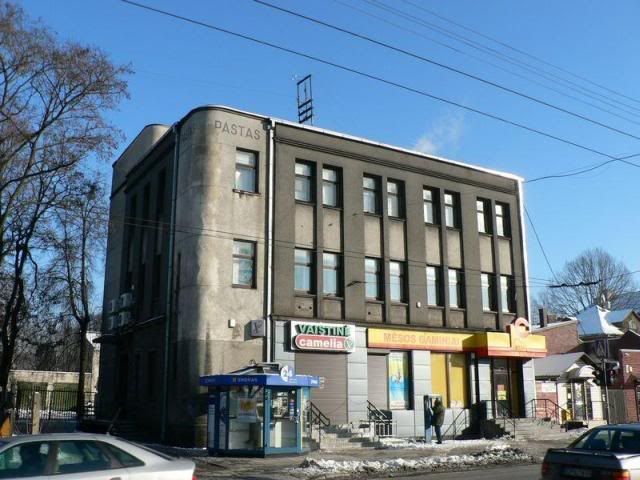 Kaunas modernism of early XXth century got attention only in recent decades. It's quite clear why this happened: earlier it was difficult to credit phenomena born in the "bourgeois" country of triumphant counter-revolution. Especially taking into account the fact that between the people who actively participated in this phenomena were people of colorful bios. Only in recent years some art historians here and abroad began to compare Kaunas modernism with Vilnius baroque of the XVIIIth century - as the phenomena which importance went beyond Lithuanian frontiers and which got the regional importance.
As any important phenomena it was not only Lithuanian creature: together with Lithuanian architects in Kaunas worked Latvian Karlis Reisons, German Arno Funk, Russians Vladimir Dubenetskij and Vsevolod Kopylov, etc. Between them was Belarusian Klaudij Dusheuskij-Duz (here he was known as Klaudijus Dušauskas - Duž). Man of an unique and tragic fate.

He wasn't between the brightest stars of that period but he left own and very characteristic footprint. Due to his bio he wasn't mentioned in the encyclopedias and textbooks before 1990 (despite the fact that Lithuanian architects who fled the Soviets were in one or another way "rehabilitated" in the 1970s-1980s. ) The unexpected fact for me was that he is credited with the authorship of white-red-white Belarusian national flag.

Klaudij Dusheuskij was born in 1891 near the Naroch lake in Belarus. In 1912 he began to study civil engineering and architecture in St. Petersburg mining institute. From 1917 he was active member of Belarusian Narodnaja Hramada. In 1919 he was appointed as a first ambassador of Belarusian People's Republic to the Baltic states. Later that year he became a member of government of Belarus. When establishment of Belarusian state failed he arrived to Kaunas in 1921 and became the citizen of Lithuania (then he adopted the name Klaudijus Dušauskas - Duž - strange name for Lithuanian ears). In 1921-1924 he worked in the Ministry of Integration of Belarus (sic! It now sounds strange but in the early 1920s such ministry really existed for a few years), in 1924-1930 he worked in Foreign Affairs ministry, from 1930 till 1940 he worked in the Ministry of Communications. In parallel he worked as an engineer and architect. In 1924-1940 he very active member of Belarusian society in Lithuania.
The nightmare came to him in 1940. This year he was arrested and accused of counter-revolution and Belarusian nationalism. From death penalty he was saved and freed from prison by the advancing Wehrmacht in June 1941. Not for a long. Independent minded person went into conflict with Nazis and has been arrested by Gestapo in 1943 and accused by the Semitism. This time he was freed from Gestapo prison by advancing Red Army in 1944. Again not for a long time. In 1945 he was again under NKVD arrest and accused as a Lithuanian nationalist. Freed from prison in 1948 using his personal relations with several communist activists and probably using bribes. But that was not all: in 1952 he was again arrested by the MGB and incriminated ... by the Polish nationalism. (How to call a man being indicted by the Belarusian - Lithuanian - Polish nationalism and Semitism at the same time ?) This time he was freed from prison only in 1956.
Having lost his health and broken soul he died in Kaunas in 1959. He is buried in Kaunas Petrašiūnai cemetery several hundreds away were my grandparents are buried.

The identification of the buildings that were designed by him today are difficult since the family frightened by permanent repressions destroyed his archive and personal records in the early 1950s.

So it's time to see something. Let me start from the scan from one Kaunas newspaper from 1930s - advertisement of services and several examples of buildings:
(From http://www.miestai.net/forumas/showthread.php?t=407&page=34, author DDR80):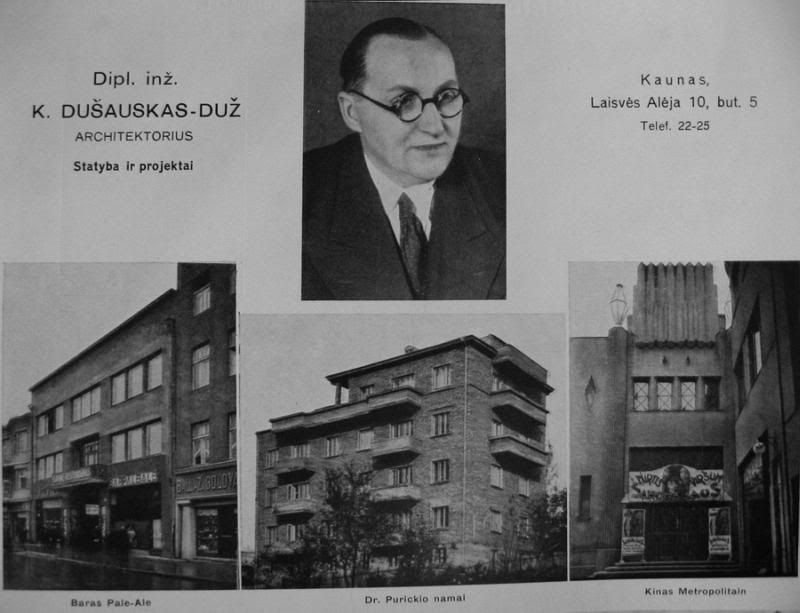 In the middle you can see so called Dr. Purickis house (Purickis was on the signatories of Lithuanian independence in 1918). House built in 1931-1932. Today it looks like this: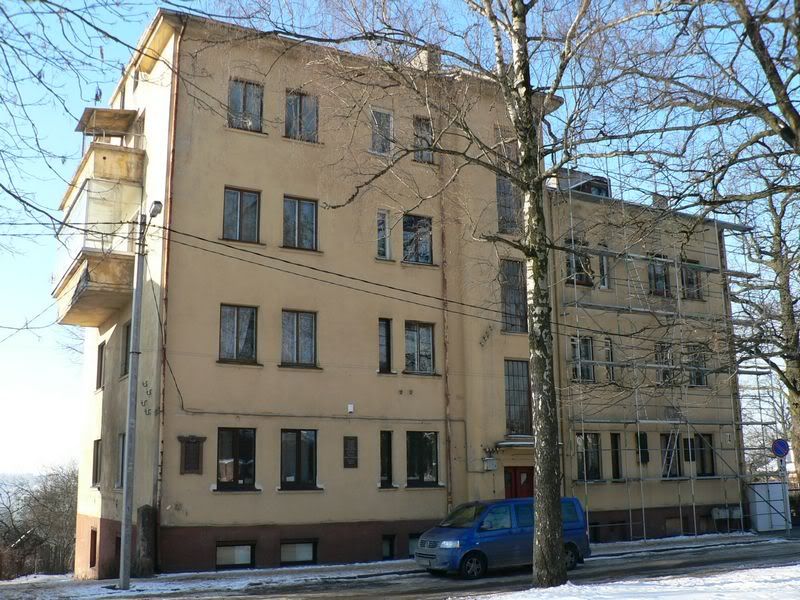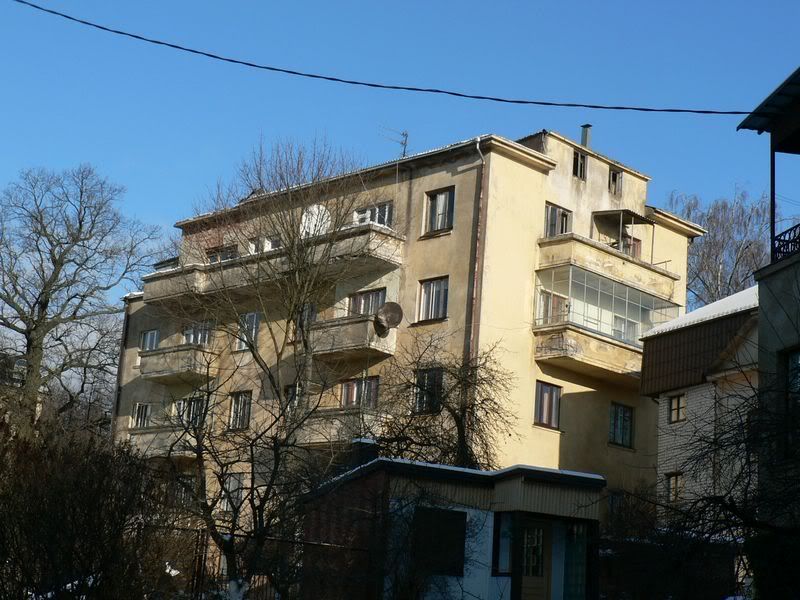 In right corner of the advertisement you can see former cinema "Metropolitain" (now Kaunas drama theater). The authorship has been for a long time accredited to Vladimir Dubenetskij but recently were found that the real designer was Dusheuskij. (He was on apprenticeship in Dubenestkij bureau then. Dubenetskij was bohema style person and often only placed his signatures on a projects prepared by his assistants). In 1958-1959 this cinema was reconstructed and today looks like this: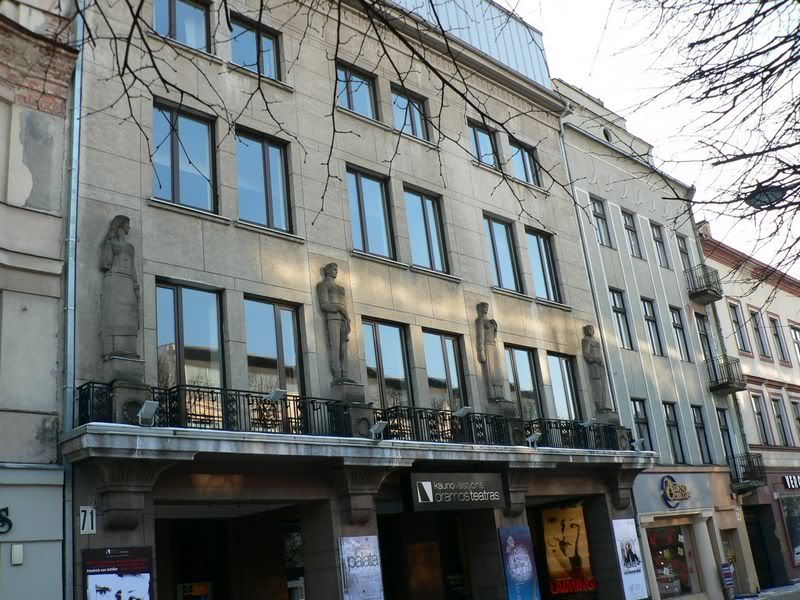 Since in 1930s he worked in the Ministry of Communications and designed many buildings related with the activity of that ministry (in Lithuania ministry of communications traditionally regulates transport of all forms, roads, post, radio, telegraph, etc.).


One of the first designs was Raseiniai post office (1934). I don't know the fate of the building but today Raseiniai post office occupies the building from 1970s. So here I will use only o pre-WWII picture:




In 1935 he designed post office in Kaunas workers suburb Šančiai. Still used as a post office except that partially used for a shop with awful advertisements: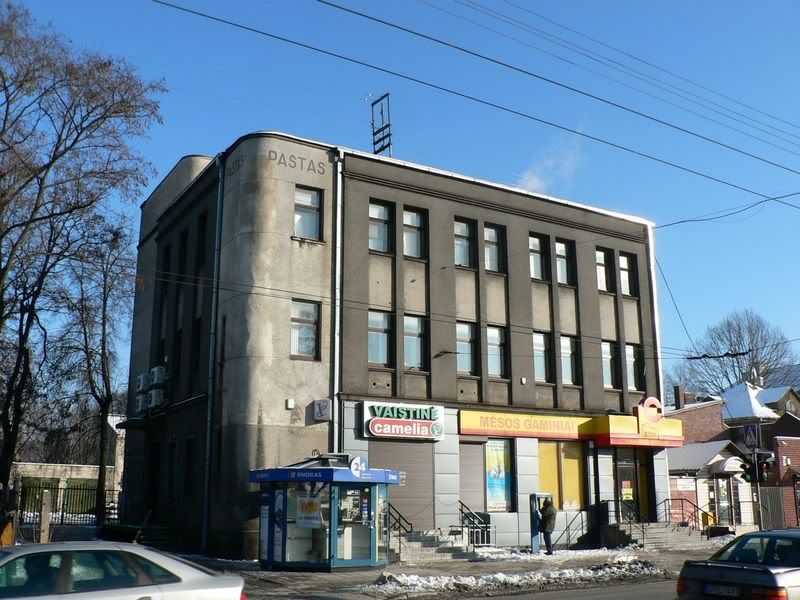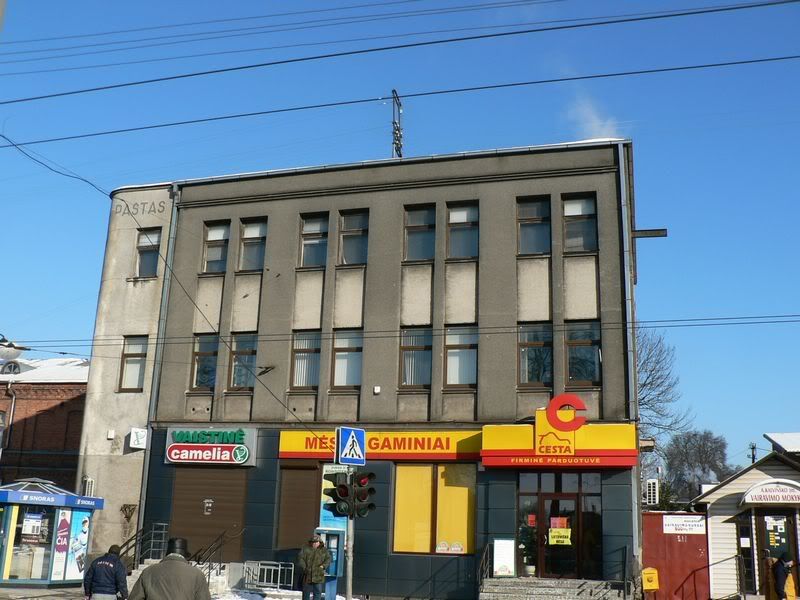 Later he designed post offices in Nida and Zarasai. But I also don't know the fate of those buildings. Apotheosis of his post office buildings is Šiauliai central post office (1938) (thanks to friend Darriuss):





He also designed former building of Kaunas radio (radiofon as it was called then). But in the 1970s it was reconstructed so heavily that today don't have any remnants from original design ...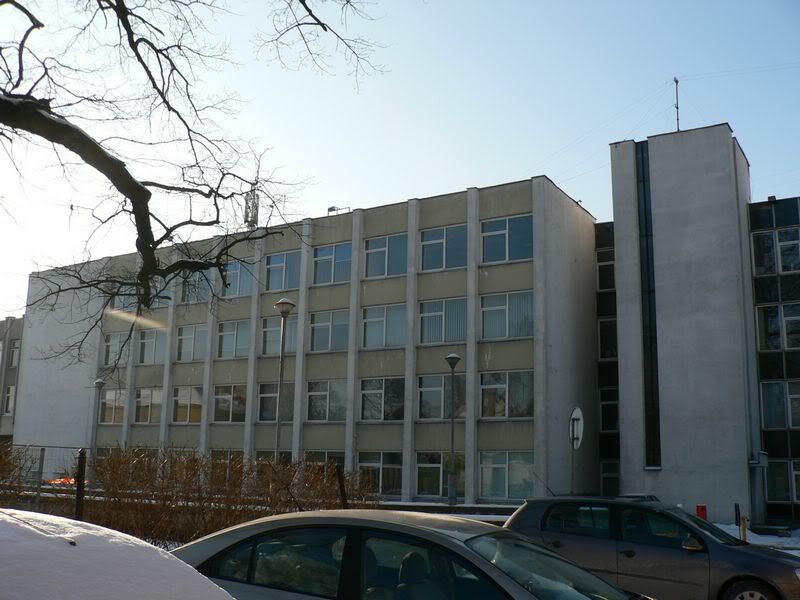 Buildings of near old Kaunas radio transmitter near Ažuolynas park remained intact but it is difficult to photograph them. They are in the closed area guarded with guns as it is stated near the entrance. So here you can see my zoom attempts only.

One of the buildings: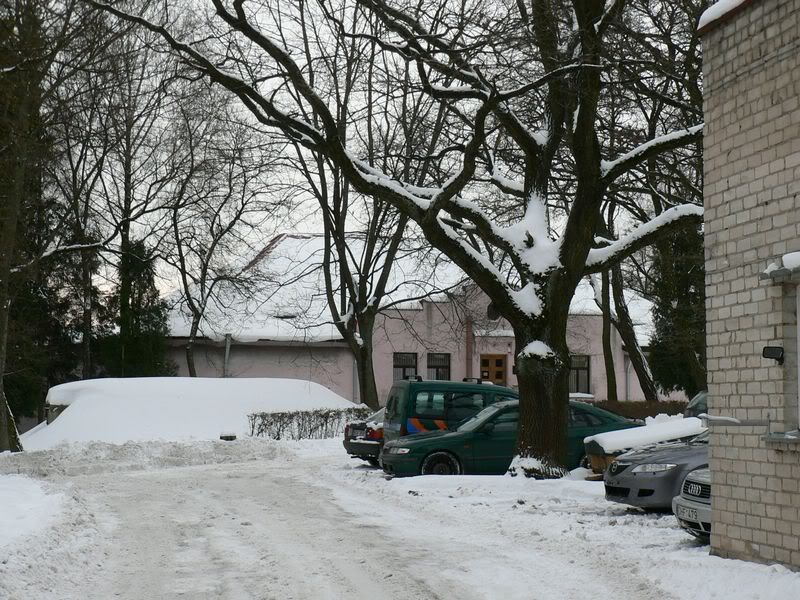 Look to the curvy corners: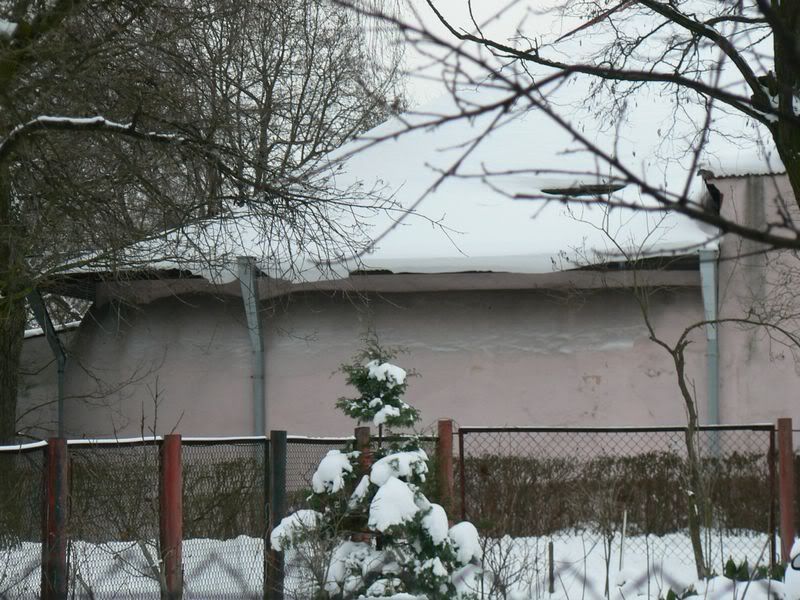 Another building: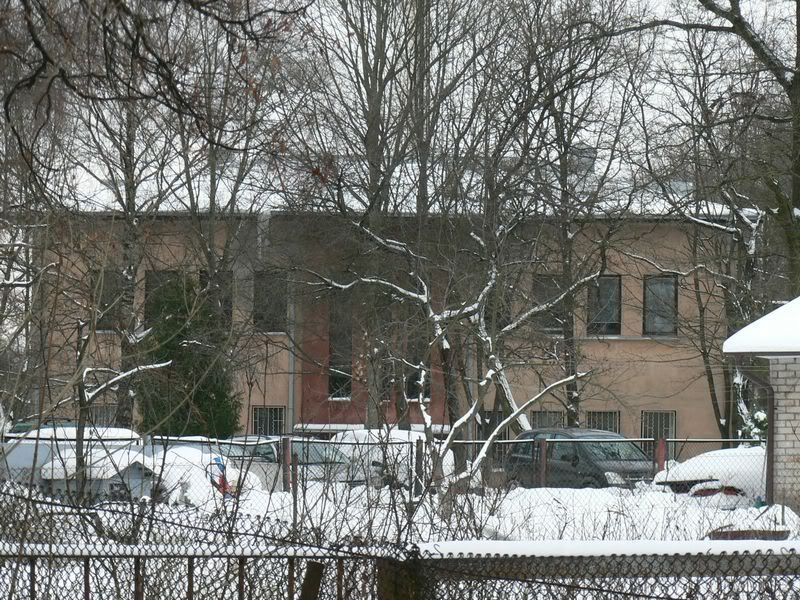 In 1936 he designed also Klaipėda radio station: old picture and photo from www.zilionis.lt: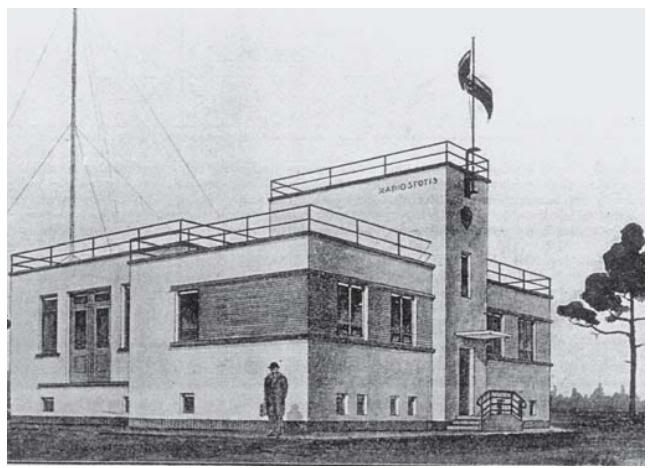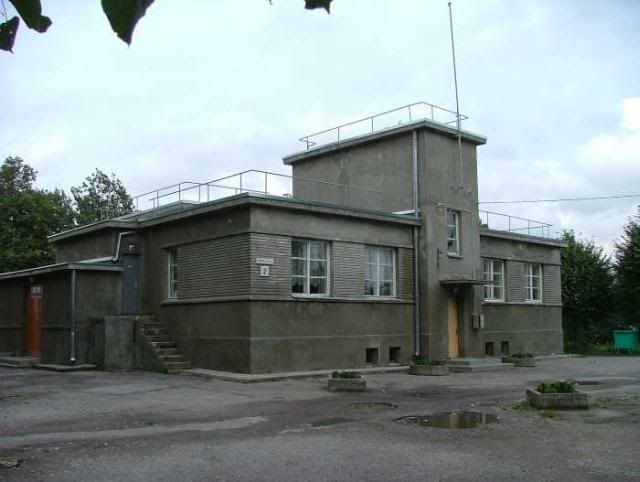 He also designed ceramic tiles factory in Tauragė, meat processing factory in Klaipėda, journalists pension in Klaipėda suburb Giruliai. I don't have photos of those complexes and can't say about their current condition.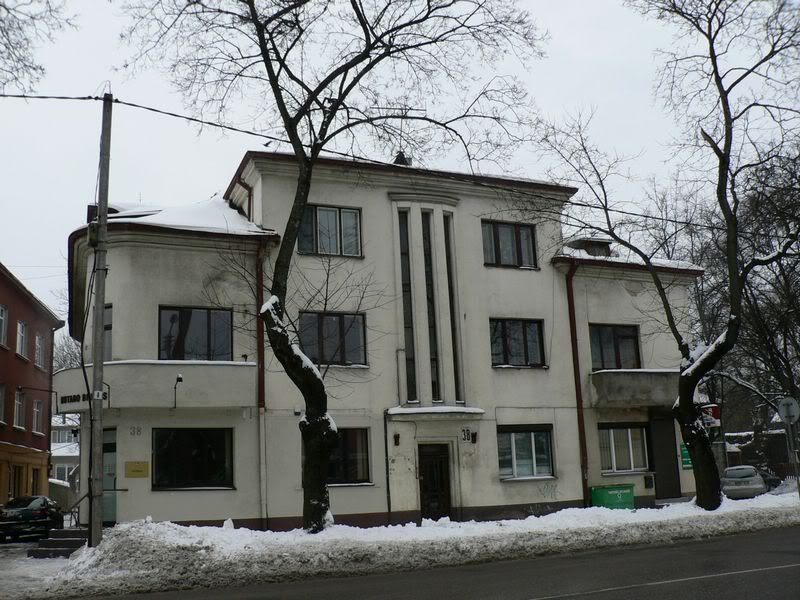 Klaudij Dusheuskij designed more than 20 residential houses in Kaunas and other towns in Lithuania. Several examples: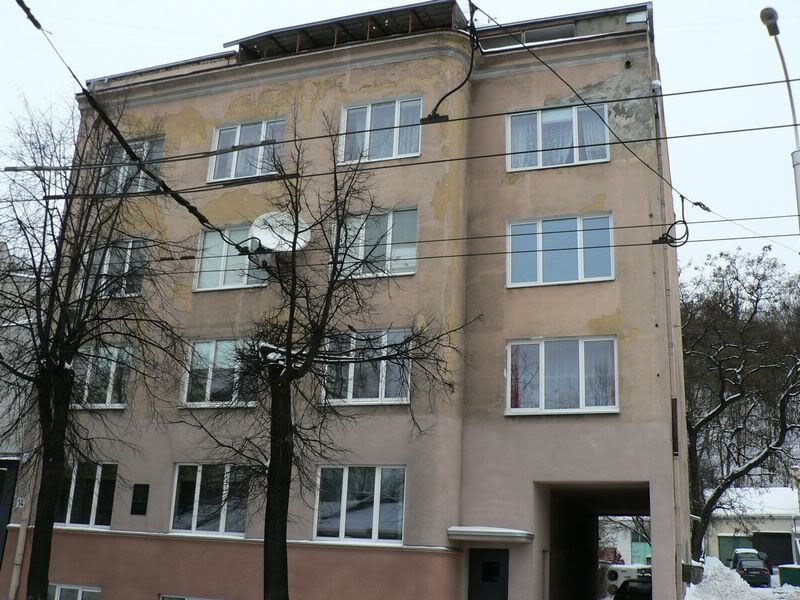 This house was unfinished in 1940 and remains unfinished in 2010:))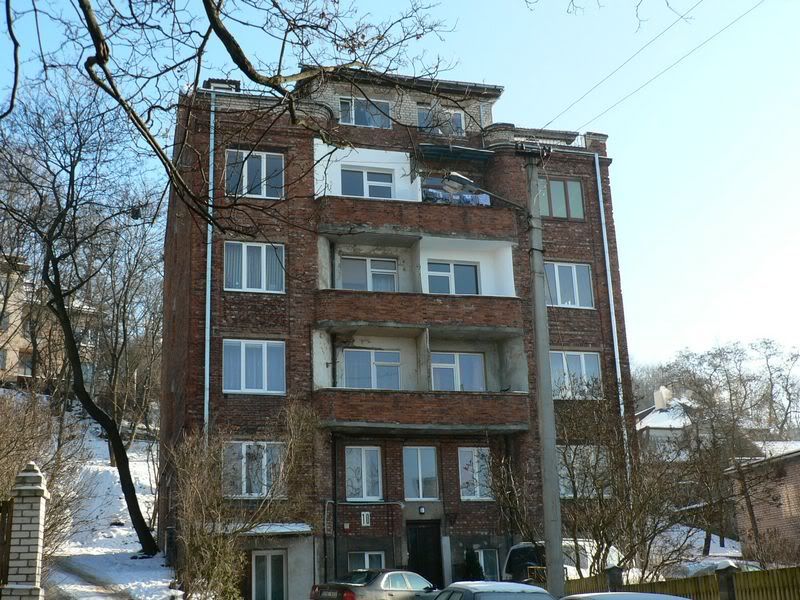 Example of cottage with some custom made "improvements":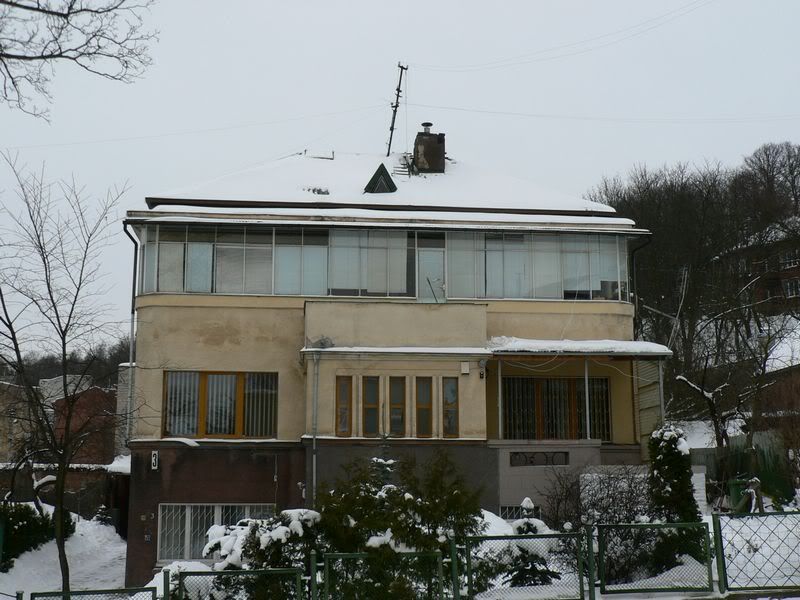 House in Šančiai with signs of later reconstructions:






Since his archive were destroyed in 1950s it is difficult to identify exactly all his buildings. Several candidates but I am not sure: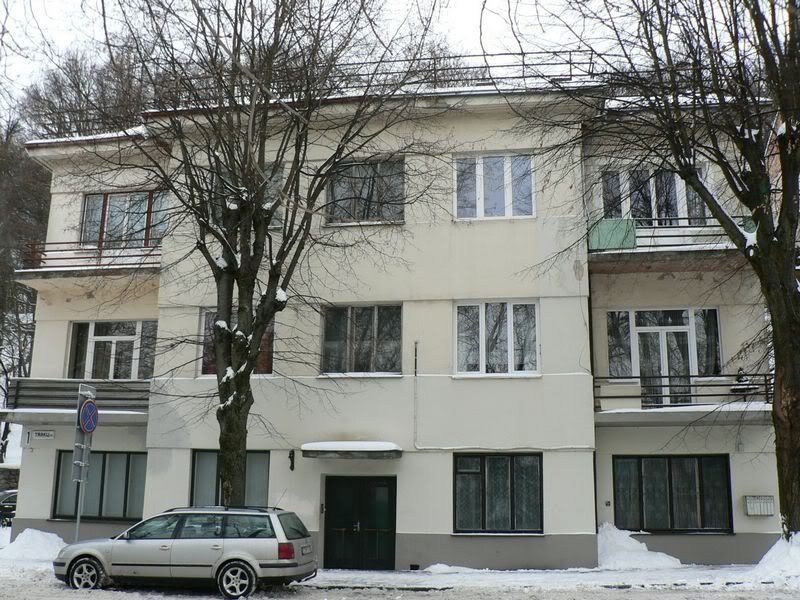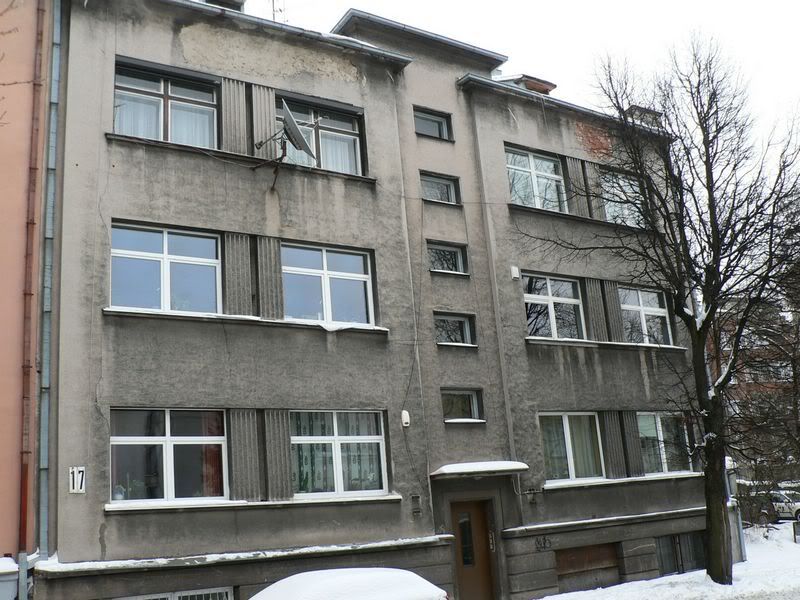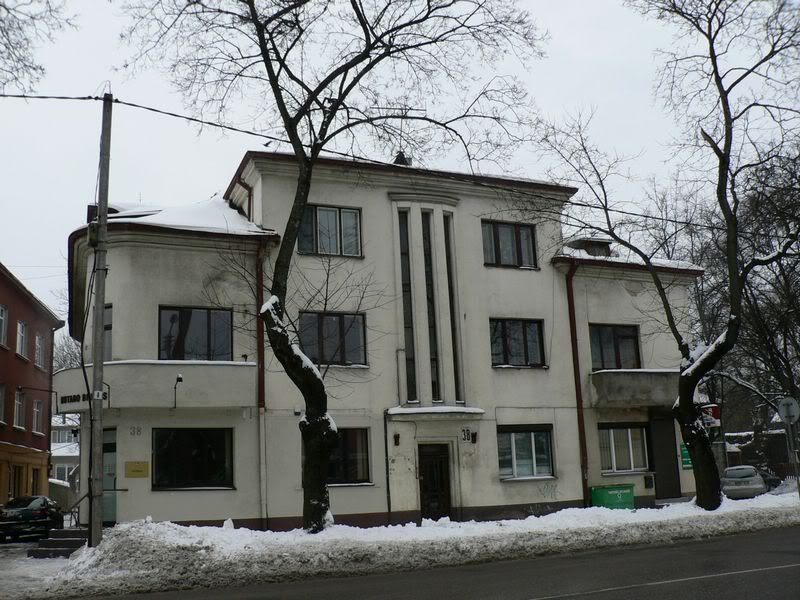 And the last photo - building in Šiauliai. (Again not mine photo, from www.miestai.net/forumas):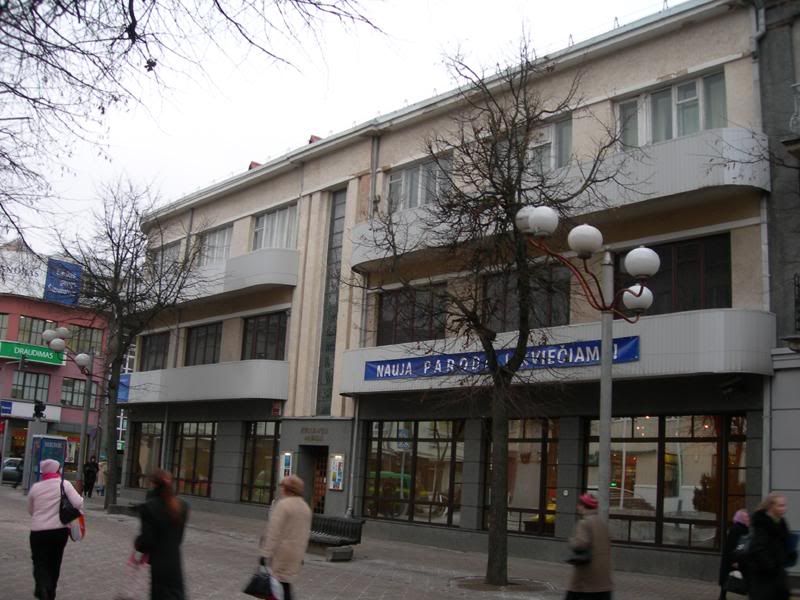 counter widget